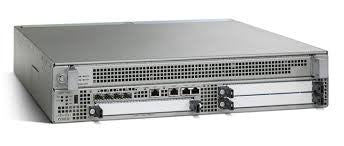 Cisco ASR1002-X
Please email/call us today for your Networking/Server needs.
info@diversity-it.com - 800-212-1773
Overview
ASR1002-X - New Factory Sealed
Cisco ASR 1002-X router is delivered into 2U chassis. The powerful route processor for control plane embedded the services processor for data plane traffic. The route processor by default comes with 4GB DRAM, which can be upgraded to 8G or 16GB. The ASR1002-X chassis has 6 SFP ports for connectivity and 3 I/O slots for carrier card connectivity. The integrated embedded service processors offer 4 levels of system performance: 5Gbps which is default, 10, 20, 36Gbps all through software license upgrade without need for any additional hardware.
ASR1002-X
Note: Orders generally ship within 1 to 2 days. Orders could take up to a week to ship after placement. 
---